Contacts:
Office Supplies… tthurman@burkettsoffice.com
Printing… jorris@burkettsoffice.com
Office Furniture… gbailey@burkettsoffice.com
Space Planning… gbailey@burkettsoffice.com
Relocation… gbailey@burkettsoffice.com
Break room/cleaning supplies…jorris@burkettsoffice.com
Accounting… ethurman@burkettsoffice.com
Human Resources… ethurman@burkettsoffice.com
Management… tthurman@burkettsoffice.com
8520 Younger Creek Drive Sacramento Ca 95828 916-387-8900
Click here for map…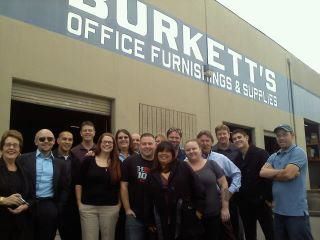 Locally owned and operated since 1959, the Mael family took over the company in 1981. Burkett's has three divisions– furniture, office supplies, and printing. Currently, Burkett's employs over 28 employees. Over half of the employees have been with Burkett's for over 10 years and a handful since 1981.
At Burkett's, we understand the complex and demanding requirements of developing a highly functional yet flexible work environment. We have spent the past 25 years perfecting our ability to adapt and grow with an organization and its varying physical space needs. Our team of account managers, designers, project managers, and installers manage every detail, from initial space planning to final installation. Our target market is 10 to 100 employees which allows us to service and react in the best interest of our clients.
Burkett's goals are two-fold – to simplify the process for the client and provide excellent service. We focus on providing our customers with high quality products and great service at competitive prices.