Professionalism in the Home-based business
Since a home-based business can be managed with very little overhead, more funds are generally available for marketing the business.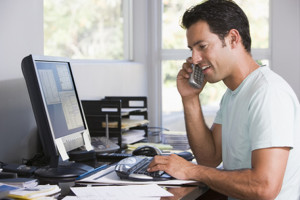 Don't skimp on the representation of your business just because it's home-based. Be sure to invest in professionally designed business cards, letterhead, brochures, and advertising whenever possible. A business that appears professional will be taken more seriously, especially when it's home-based. Burketts printing department can get you going.
Spend a little extra, and obtain a post office box especially for your home-based business. A post office box seems much more professional than a typical household address. Potential clients could be inclined to go elsewhere if an address doesn't sound like that of a professional business operation.
If you are expecting, clients and vendors to visit your home-based office, be sure to furnish and supply it in a way that they would expect to see a commercial location outfitted. You shouldn't conduct client conferences at the dining room table or kitchen counter, when your competition meets more professionally. Have a look at Burketts Office Furniture lines.
When you are ready to take your home-based business to a more professional level, please let the experts at Burketts Office Supply show you how.